Unique Things To Do While Visiting London
One of the most diverse capital cities on the planet, London is a fantastic city break for travellers, regardless of your budget. Home to some of the most famous landmarks and sightseeing spots in the world, whether you're looking for culture, food, shopping, history or just something a little different, London has something for everybody.
The majority of London travel guides centre around the main attractions that most people will have heard of before. From the towering London Eye that gently revolves on the South-bank of the murky river Thames to Big Ben and one of the world's most famous wax museums, Madame Tussands. As there are already countless guides touching on these subjects, I'll aim to highlight some of the more interesting and unique things for you to do, ensuring you have a trip you will never forget.
As one quick note on these popular attractions, visit www.londonpass.com for a travel card that will allow you to enter over 60 of these main activities for free! You can buy the discount card online, in a tourist information office or by using the dedicated London Pass app! A three day pass will set you back around £118 ($144) which includes free entry to all the attractions, a free day of travel with Sightseeing Bus Tours (a bus service which you can hop on and off as you please) as well as Fast Track entry to the majority of the attractions.
Things To Do
As you can imagine, London is packed from top to bottom which things to do. Even just taking the world famous underground train network and getting off at random stops to have an explore can fill a day with fun and unexpected adventures. When looking for something specific, here's a couple of activities for add to your list!
Get Lost in the London Science Museum
To kick start our list, I've added the Science Museum, simply because it will blow you away. Entry is completely free to everybody and is always home to breathtaking exhibitions that will make your jaw drop and promises to leave you speechless. Easily accessible using the Tube Network, you'll be able to partake in countless interactive displays, virtual reality tours of the universe, The Wonderlab (renowned as the most spectacular interactive gallery in the world) and the latest exhibition dedicated to the future of robotics. The museum is open everyday during normal working hours and is well worth setting aside a couple of hours to explore.
Take to the Skies on Tower Bridge
For an unparalleled view of the city, as well as the chance to get some serious feelings of vertigo, make your way to the unmissable Tower Bridge. This beautiful bridge plays a very important part in British history and is the perfect opportunity to get some Instagram worthy snaps. In an added twist, you can now take the elevator up to the top of the bridge where you'll get the chance to cross the Thames whilst walking on the 11 metre glass walkway. Suspending 42 metres into the air, each glass panel weighs over 500kg and is the only thing holding you above the bustling traffic below. Book your tickets online for a slight discount but expect to pay around £8 ($10).
Discover Camden Market
Camden Market is possibly one of the most popular market areas for people of all ages. Packed full of alternative food spots, endless alleyways clad with market stalls selling various bits and pieces to the converted stable shops and piles of antiques for sale. You could easily spend a whole day here seeing what is on offer but you'll easily be able to make the most of it in an afternoon. Perfect for travellers with alternative diets, such as vegetarian and vegan, expect to find countless stores selling objects you never thought existed! A highlight for many is the CyberDog store, located in the centre of the market. Entry is marked by the huge towering robot statue next to the door and inside you'll find all kinds of fashion and accessories based around the rave scene and funky neon, fluorescent lighting.
Food & Drink
As with any major city, London is home to countless restaurants, cafes and bars, each with their own niche and style.
Lady Dinah's Cat Emporium
If you're a cat obsessed fanatic, then this is the place for you! The Cat Emporium, located in the Shoreditch district, is the perfect place to sit down and relax from the stress and bustle from the city. Get yourself a traditional English cup of tea or coffee, maybe a bagel or a bit of cake and unwind whilst being surrounding by cats. Booking is highly recommended as the cafe is very popular but each one hour sitting holds around 30 people in which you are free to walk around, explore the amazing playground the cats have to roam around in and play and stroke to your hearts content! Obviously, for the cat's wellbeing, there're a handful of rules to abide to, such as don't touch them if they are sleeping, eating or grooming, but apart from that, you're free to do as you please! For those wondering, hygiene levels are extremely well maintained and the staff are incredibly helpful and extremely knowledgable about the cats (all of which come from rescue homes) making this the perfect lunch time stop off.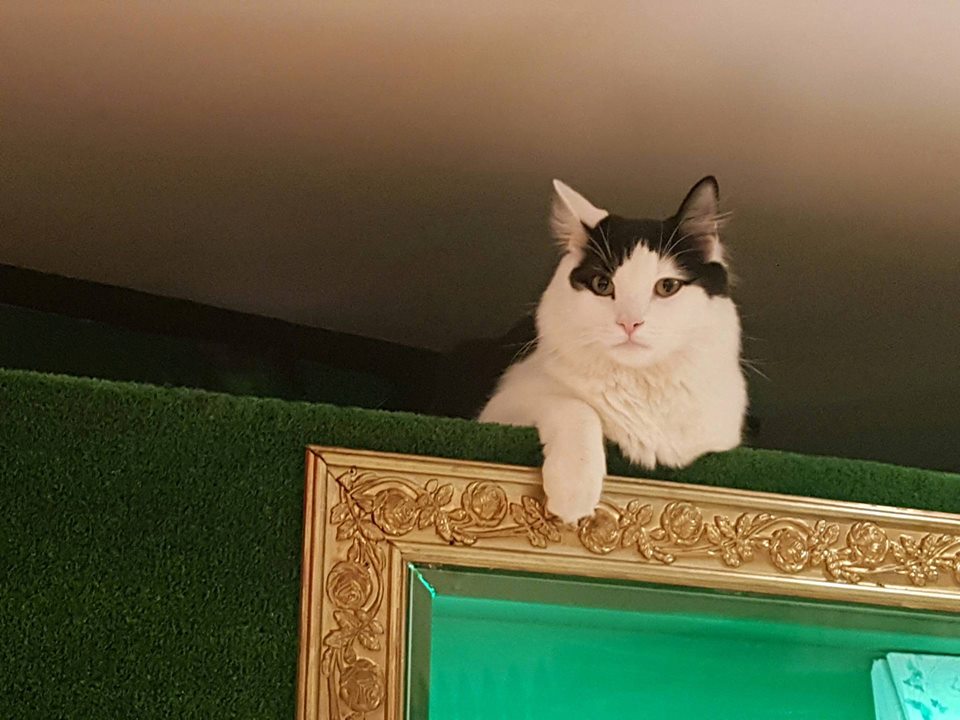 The Cereal Killer Cafe
Heading back to Camden now to one of the latest cafe additions. The best way to start and fuel up for the day is by getting a good breakfast and there's no better place to do this than the Cereal Killer Cafe. Here, you'll have the opportunity to create your perfect bowl of cereal. You can choose from over 100 various types of cereal, sourced from around the world, alongside 30 kinds of milk and over 20 different toppings! With incredibly helpful and friendly staff, you'll also be able to enjoy the cafes retro atmosphere as every wall is crammed full of 80's and 90's memorabilia.
Dinner and a Show
A little more expensive that most of the options on our list, but you get two things at once in this next restaurant. Circus, located in the famous Convert Garden, is a well known bar and restaurant that serves amazing food and cocktails. Enjoy a variety of Pan-Asian dishes whilst marvelling at the spectacular circus and cabaret displays that take place on and around your tables! The food itself is massively popular with tourists and locals alike and the performances are truly breathtaking. Witness jugglers, fire-breathers and hoop artists in this truly unique place.
Other Mentionable Activities
Always remember that this is just the tip of the iceberg. There are countless things to do in London, many of which will be found just by walking around and seeing what you can find. From old book-stores that still run to their original values to the absolutely massive 4-floored M&M store for all the chocolate lovers out there, it's well worth just hopping around and seeing what you can find. For a few more ideas, here is a couple of other activities that are well worth taking part in!
Get Your Wizard On
Following on from the worldwide sensational movie series that was Harry Potter, when in London, take the time to visit the breathtaking Harry Potter Studio Tour at the Warner Brothers Studio. Booking is highly recommended and if you want to visit, you may want to think about booking your spot a few months in advance but it's well worth it. Inside, you'll be able to explore the actual set locations in which they filmed the movie series including the Great Hall, a detailed view at the Hogwarts Express, get a glimpse at how they implemented the special effects into the film including a fully featured Chamber Of Secrets and, opening March 31st, you'll be able to get yourself lost in a huge representation of the Forbidden Forest. This is a must for all loyal Harry Potter fans of the books and films alike!
More Amazing Performances
One highlight of visiting London is that it's one of the performance capitals of the world. Home to world famous West End as well as still showing performances of the ever increasingly popular Disney Lion King stage show, theatre and live performances is a real tradition when it comes to visit London and it is recommended that if you get chance, go and see a show! Unfortunately, some of the more popular shows can be quite expense, so why not take a stroll down the Thames to witness some equally amazing street performances. The South-bank, near the London Eye, is perfect for this and you'll be rewarded with some amazing photo opportunities. You'll see everything from live singers, comedians and even fire-breathers and death-defying knife throwers!
When visiting London, there is so much to see and do. Still one of the popular tourist destinations in the world, there really is something for everyone. Before your trip, do your research as there are constantly new exhibits, displays and venues opening all the time. Accommodation prices vary from prestigious and lucrative hotel chains to affordable traveller hostels so there's no reason not to visit on the most beautiful cities in the world!