Top 10 Places to See in South and Central America
June 27, 2017
Destinations
Planning a trip to South or Central America? Here are some places that should be on your list!
1. CUSCO, PERU
Former capital of the Inca empire, Cusco is a city in the Peruvian Andes. From baroque architecture to stone carvings dating back to the Inca, this town has a lot of history and astonishing views.
2. MENDOZA, ARGENTINA
Mendoza has a little bit of something for everyone. It is most popularly known for its wine, which presents a multitude of things to do and see in town, but the city is situated to the east of Mount Aconcagua, the highest peak in the Western Hemisphere. The fields of the wineries are beautiful enough, but the mountain views and the architecture and colors of the town itself make Mendoza a must see.
3. PATAGONIA
On the southern tip of South America, Patagonia is shared between Chile and Argentina and is arguably one of the most stunning places in South America. Patagonia is split in the middle by the Andes Mountain range so you already know it must be crazy beautiful. Also, because it is in the southernmost region, there are plenty of glaciers to visit. The area is covered with mountains, rivers, lakes, beaches and expansive fields and roads. I don't think I can come up with anything that Patagonia doesn't have...
‍
4. NATIONAL PANTHEON, VENEZUELA
Panteón Nacional de Venezuela is the final resting place for Venezuelan heroes. Built in the 1870s, it is home to beautiful architecture and history.
5. VALAPARAISO, CHILE
Valaparaíso is a port city on the eastern side of Chile and is regarded as one of the most unusual cities in Chile. The old town style streets are lined with a menagerie of colored buildings and crumbling mansions. It is known for its street art and "edgy" appeal. Many poets, artists, writers, and philosophers have sought out inspiration among the streets of Valaparaíso.
‍
6. SALAR DE UYUNI, BOLIVIA
I hadn't even heard of this until my friend had come home, elated, from Bolivia. Besides the llama sweaters (my favorite) Bolivia has so much to offer. The Salar de Uyuni is the largest salt flat in the world and is a supremely surreal location. It is a dried up lake that left behind white salt-rock formations. There aren't many animals in the area...but there are flamingos.
7. RAQUIRA, COLUMBIA
This brightly colored town is a huge pottery hub. The buildings are festively colored and lined with decorations and homemade pottery. It is actually referred to as the pottery capital of Columbia.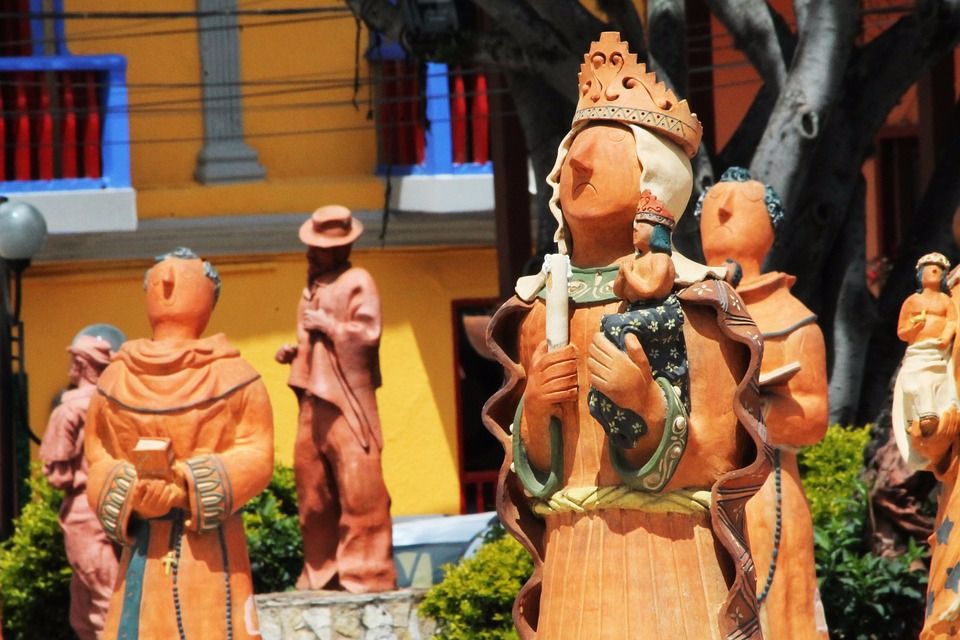 8. LAS LAJAS, COLOMBIA
Las Lajas is a basilica built between 1916-1949 in a revived Gothic style. It is a Roman Catholic cathedral dedicated to the veneration of Our Lady of Las Lajas Ipiales. It is located in southern Colombia and is worth a visit.
‍
9. GRANADA, NICARAGUA
Nicaragua used to be a hush hush travel destination without many people knowing the wealth of what it offered. It has become more popular in recent years but I still don't think it is given the credit it deserves. Granada is also close to the many other beautiful destinations in Nicaragua; volcanoes, tiny islands, lagoons, heck just travel the whole country!
10. ENCARNACION, PARAGUAY
The third largest city, Encarnación has a lot to offer. History, stunning architecture, beaches...what more could you want?
Think you'll go? Brush up on some Spanish and get your free phrase sheet download!
‍
‍
‍