A Relaxing Weekend in Innsbruck
November 17, 2017
Destinations
Despite all my planning, my move to Germany hasn't been a seamless endeavor. Life doesn't care how much you planned, it likes to fuck things up. That's what life did to me in my first two months here. I was pretty disappointed and incredibly stressed.
I arrived in Germany with all these dreams and tentative plans to travel and explore my surroundings but tonsillitis and a double ear infection told me no, stay home and be sad. So I did. But the second I was better, I saw an opportunity for a long weekend away and took it. I didn't have big plans or aspirations to experience the entire city in just a weekend, but I wanted to get away to a beautiful place and be on my own.
Being an au pair can be hard. It is a great opportunity and I am lucky to have such a great family but there are times where I just need ME time.
So, I chose to go to Innsbruck!
Why did I choose Innsbruck?
I live outside of Munich (30 minute train) and Munich has connections to everywhere, let's be real. Now if I was made of money I would fly to Iceland or Finland or something crazy but I live off of my savings and my au pair salary. That's not going to happen every weekend. I decided to give FlixBus a try after seeing their station under the Central Bus Station in Munich.
You can look at trips on their website and I was able to score a ticket to Innsbruck from Munich for only 8 euros. It wasn't a hard decision to drop 8 bucks on a bus ticket to Austria, I'll be honest. It was also only 2.5 hours! I was amazed just how easy it was. Hell, it was cheaper than my train ticket to Munich.
So, discount ticket in hand and no plans on my mind, I boarded the bus to Innsbruck with my laptop, some clothes, and my stuffed leopard.
30 minutes into the bus ride, the trip was worth every penny.
I would love to say I only spent the 8 euros but unfortunately I have to sleep somewhere and eat things. But I sincerely enjoyed the views on the ride. I have always heard a great way to see Europe is by train or bus and now I can confirm. It was unreal. The time went by so fast because I was enjoying the views so much.
‍
I went with no plans whatsoever
Other than my transportation, the only other planning I did was scribble down some places of interest and activities I could do if I felt the desire to. I didn't even bring my camera because I didn't want to feel like I was working or that was pressure to produce a money article out of this trip.
My move to Germany was incredibly stressful. I moved three times in a month, wasn't sure if I was going to even be able to stay in Germany, and then I got sick. Maybe I will explain it all at some point but it was incredibly stressful and emotional. (Don't worry, you can read about what went wrong here) I needed a weekend to start over and set a new tone for the rest of my time here. With tickets so cheap to Innsbruck I can easily head back there and do some of the activities I skipped this time.
No plans = Best plans, in this case. I needed to recharge.
I had no plans, but I definitely saw plenty and enjoyed my stay.
This was exactly what I needed. My AirBnb was perfectly situated near Old Town and by Hofgarten-a huge park in Innsbruck so I could comfortably walk and see much of the town.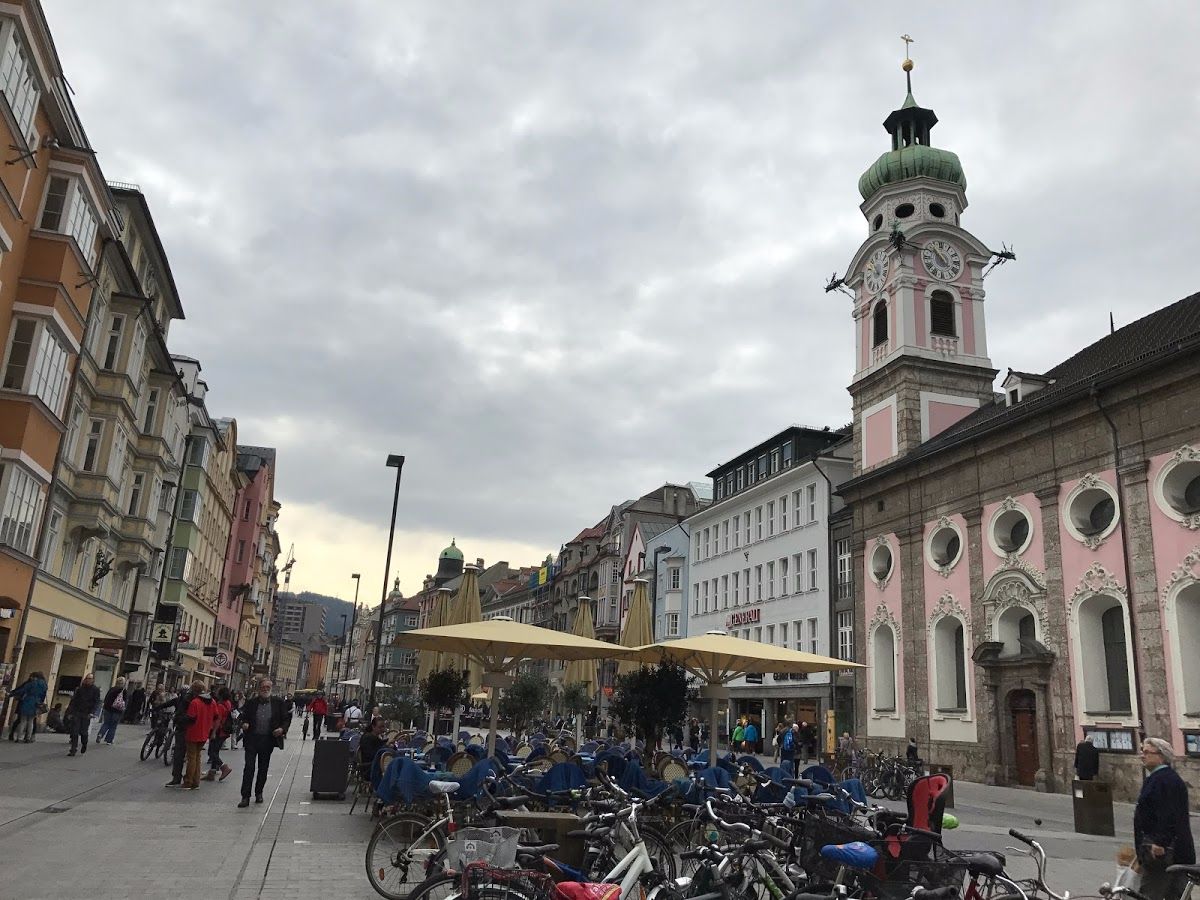 Needless to say, I had a very restorative weekend in Austria and I can't wait to head back to Innsbruck and fully experience what it has to offer.