I have the awesome opportunity of traveling to Scotland in April via TrustedHousesitters-did I mention how much I love that website? I will be staying in Dunfermline for 2 weeks at the beginning of April. I plan on staying in Glasgow for one night and then take the train to Dunfermline the following afternoon. From there, I get to take care of two adorable dogs and spend the day doing whatever I like. That means: ALL THE DAY TRIPS.
I don't have much time in Glasgow so I am trying to make sure I cover everything. Here goes!
Day 1: Arrival
I will be flying British Airways and after a 4 hour stopover at London Heathrow, will be taking a second flight to Glasgow. Unfortunately, we will only be spending 1 night in Glasgow before taking the train to Dunfermline the next day. Honestly, after the 15 hours of flying, I will probably just shut down in my hotel room. :(
Day 2: Glasgow
I will be taking the train to Dunfermline around 5pm, which doesn't leave me a lot of time to explore Glasgow but I want to make the most of it.
George Square
In the center of Glasgow, George Square is not only beautiful on its own, but is also very close to many other sights in Scotland that I consider a "must see". Look at the red! Can't wait to take way too many pictures here.
Tollbooth Steeple
Looking at reviews online, a lot of people go to the steeple, take a picture, shrug and they're done. But this is one of the oldest buildings in Glasgow, built in 1625-26, and is where the public hangings used to occur. It is the last remaining piece of the old Tolbooth buildings in town. How cool?! It is also near the center of the city so I won't be too far away from the other things I would like to see.
Glasgow Cathedral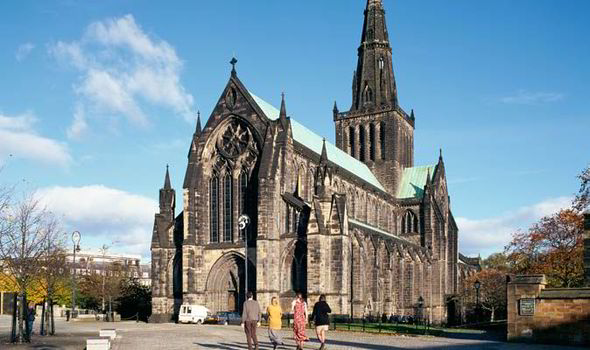 I can already hear the angels singing. Built between the 13th and 15th centuries, the Glasgow Cathedral is an obvious choice for the architecturally inclined. I don't know anything about architecture, but I can definitely appreciate a building like this.
Trades Hall of Glasgow
Oh Glasgow. Why must you be so beautiful?
Glasgow Central Station
Bye Glasgow! See you soon Dunfermline!